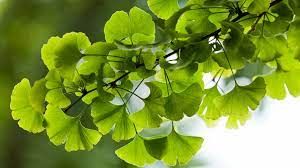 Maidenhair Tree (Gingko biloba) – UNAVAILABLE
Full sun to part shade. Zones 3 – 8.
Very tolerant of a wide range of soil types and pH.
Vigorous, large, pollution tolerant, disease-resistant trees. Gingko trees can grow 50 to 80 feet in height.
A distinctly beautiful large tree, Gingko's unique fan shaped leaves and golden autumn foliage can be an excellent backdrop for other plants with deeper green or more striking red fall foliage. Gingko is an excellent city tree that is not affected by pollution. Grow as a coppice for medicinal leaf production or in smaller spaces.
Gingko's leaves, when dried and made into teas or tinctures, can aid memory, circulation, and ward off disease. Female plants can have small edible nuts.
$20.00 / 1 gal., $32.00 / 3 gal., $39.00 / 5 gal.